I like J. Crew. A LOT. * Not only is much of my wardrobe from there, I often find inspiration for my sewing projects on their website and in the catalogs. As soon as this cami came out a few months ago I was smitten.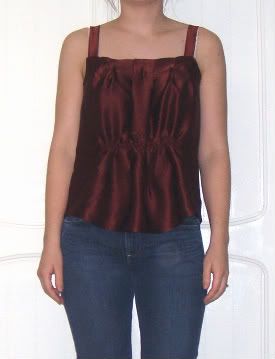 Now while I think I got pretty close to the real thing, I wasn't thrilled with it. I've been trying to figure out why and I decided it's just not that flattering on me. The gathers at the waist kind of poof out at the belly, and the pleats on the top just look better on someone with a smaller bust.
Like the lithe J. Crew model you see here.
I have 2 more colors of silk charmeuse ready to go that have been languishing while I mulled this over. Leave it to
Erica B
. to come up with something equally cute but probably a better fit for my figure, this
simplicity top
also done in charmeuse. I think the tank style, coupled with the princess seams and less tucks will be much more flattering on my shape. It just so happens simplicity is on sale at Hancock's until tomorrow, I think I will pick up this pattern and make up a quick muslin to confirm my hunch.
*
DVF you will always have a place in my heart (and my closet), but I just can't wear pretty dresses everyday.