I was really trying to finish up this dress over the weekend, but unfortunately I didn't quite make it. Okay let's be honest, when I say 'quite' I mean it still needs a collar, hems, zipper, and seam binding for the waist and armhole seams. So at least a half a day's work at my pace. *


The inspiration: Michael Kors
However it is starting to look pretty nice, even if I do say so myself. The fabric is a dream to work with, and the lining technique went so much easier this time around. I used the same procedure as described
here
by LauraLo, adding 3/4" to all the lining vertical seams. The last time I tried this I only used 1/2", and it wasn't enough. 3/4" was a little too much it turns out, but this was better than not enough. How much extra to cut is dependent on turn of the cloth, which varies for each combination of lining and fabric. LauraLo talks about that as well.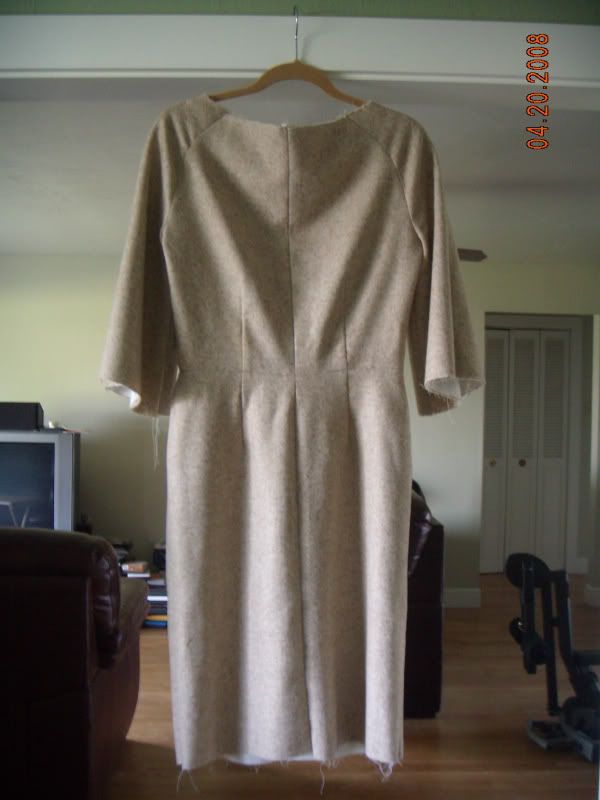 I'm surprised at how well this technique handled curved seams, the raglan sleeve seams came out very nice. I think I was pushing it with the princess seam though, it looks fine from the outside but inside its a bit bunched up in the deepest curve. I should cut out a notch and sew it up by hand to make it lay flatter. And if I were to do this again I think I will take LauraLo's advice and sew the darts separately, pressing in opposite directions. They are a bit bulky for my taste sewn together. I also did not press the 1/4" seams open, just flat, and did not stitch in the ditch to hold the hong-kong finish to the edge. Pressing would give a slightly better edge but honestly I think it looks perfectly nice without it, and the ditch stitching was not necessary to hold the fabrics in place. With a more slippery fabric this might help, but it saves time if you don't need it.
I'm trying to decide how to finish the waist seam, LauraLo did a dress recently by applying ribbon to it to cover the serged seams. I may try that or I may put bias binding on both edges to match what I'm doing on the armhole seams, we'll see. Any preferences?
*
You know those people that say 'oh I just whipped this up in a couple hours!'? I'm not one of them. Probably never will be. I'm choosing to believe it's my attention to detail and extreme pickiness and not my lack of skill.