I'm still trying to get caught up with recent projects, this last weekend was quite productive so I'm starting there. :-) I've been wanting a maxi dress for at least 2 years now but never got around to buying/making one. After seeing Cidell's version of this Simplicity pattern (3503) I knew I had to make it up. I recently cleaned and reorganized my sewing room (need to take some pics of that too!) and went through all my fabric, and found a small piece of brown silk jersey, and a larger cut of a DVF brown/cream silk jersey print I bought at Britex in San Francisco with my sister that would be perfect for it.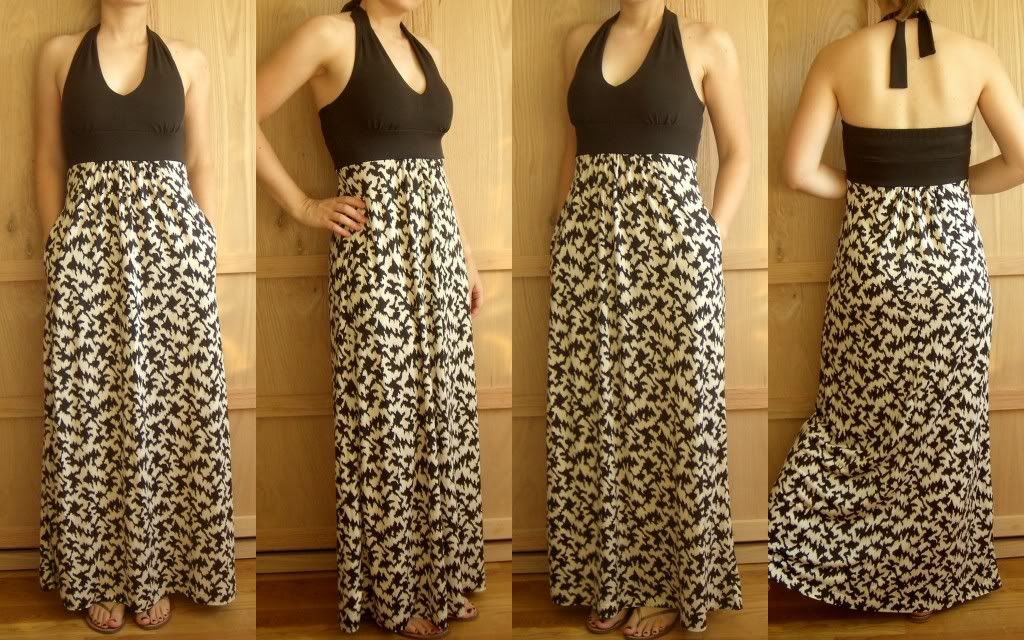 I made the halter neck, long version, mostly in a size 8 but I had to make a lot of adjustments. I made a muslin first, and from that made the following:

-Narrowed the top back piece by 1/2" on each side (making it less than a size 6!)
-Narrowed the back band by the same amount
-Removed 3/4" from the bottom of the top back piece at the CB, tapering to nothing at the side seams
-Removed 1/2" from the back skirt at each side seam
-Narrowed the neckline and armholes by 1/8" on the lining pieces
-Added a top back lining, used wider elastic in the back and sewed a seam between the fabric and lining for a casing
-Raised the pockets by 1" (they were oddly low)
-Added bra cups inside the lining
-Darted the lining instead of gathering like the outer fabric
-Interfaced all the solid top pieces of brown silk jersey with pro-sheer elegance from Sew Exciting

I wasn't planning on fully interfacing the top, but after fusing a test piece I was loving the way it looked. It just made it look expensive. LOL

I made some changes to the construction order, in general I sewed all the front pieces together, then all the back pieces, and finally joined them at the side seams. This made it easier to adjust the side seams in one go if I needed to. Once I was happy with the top, I serged the skirt on following the instructions. I understitched the lining around the neckline and armholes to keep it from peeking out.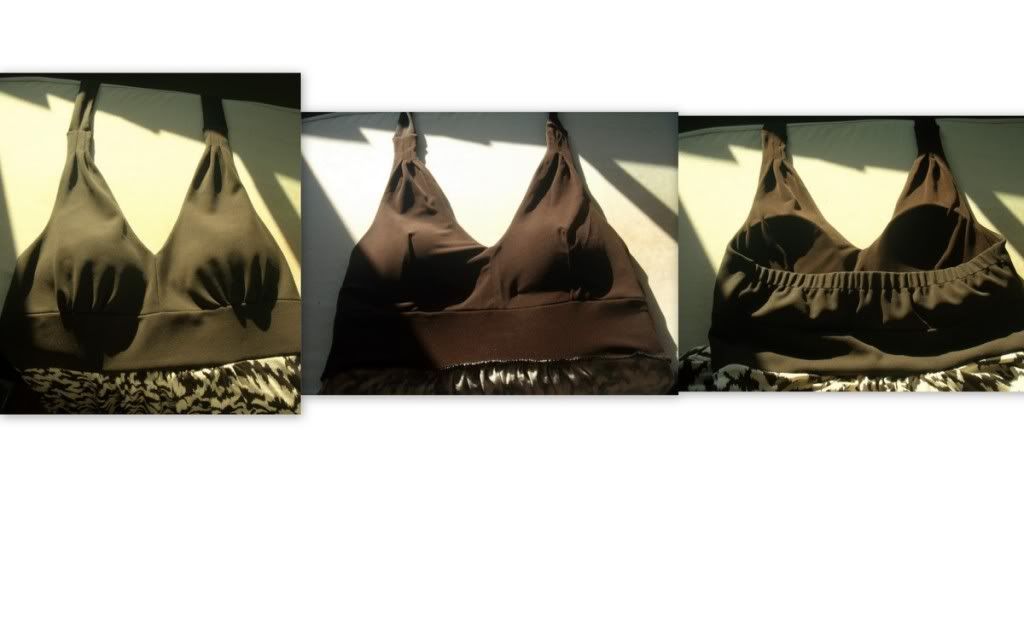 I didn't have enough brown silk jersey to do a self lining, and I also didn't have any thin foam bra cups in my stash. I solved both these problems by buying a clearance dress at Ross for $11, it was made of a decent quality poly and had bra cups in it. I cut it apart, and got almost a couple yards of fabric from the skirt, and some great bra cups. Sometimes the fabric store is not the only place to get supplies!

And finally, I have to thank DH for pinning the hem for me. I was having a hard time getting it just above the floor, so I talked him into helping me. I had to stand there for close to a half an hour, but boy is it even! He did a good job. :-) I did my usual not-so-blind hem finish on the serger.